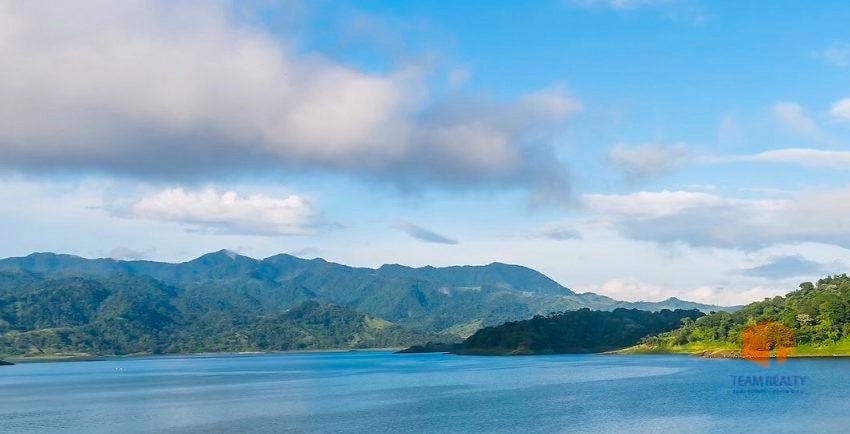 5 REASONS TO MOVE TO LAKE ARENAL
Here are my 5 main reasons to move to gorgeous Lake Arenal:
1. The Climate
In the last years Atenas has been labeled as the 'Best Climate in the World" but frankly Arenal does have great weather and temperatures year around. It get its share of hot days and rain but for the most part the weather year-round in the area can be described as "spring-like." Comfortable daytime temperatures in the 80s…cooling off at night. Most people here do not use air conditioning. Instead they open windows and sliding doors to bring in fresh air and cooling breezes.
The good weather means a lot of living and entertaining is done outdoors—in tropically-landscaped gardens, terraces, or back porches. Most everyone here eat meals outside, enjoying that first cup of coffee in the morning overlooking the lake, and watching the sunset over a glass of wine.
There can be heavy rains here at times. This is the tropics. But most people welcome the water because it nourishes the vegetation and really brings out the different shades of green in all the trees and other plants.
2. An Unique Tropical Landscape
The centerpiece of the Arenal region is the lake. Gently sloping green hills, the Tilleran Mountain range, is dotted with homes and trees down to the water. The region is still quite rural, with plenty of wild areas and green space, including a large section of Volcano National Park.
The lake is pristine. The shoreline is mostly undeveloped. In fact, regulations restrict any building or development on the water's edge. As a result you get unspoiled views and no shore side condo buildings, big resorts, or busy marinas. And that's NOT GOING TO CHANGE any time soon. Created by flooding a river valley in the 1970s, for a hydroelectric plant—unseen by the way—at the east end used to provide most of Costa Rica's electricity. It's been joined by other forms of renewable energy.
You can boat on the lake. There are boat ramps in a few spots and small marinas with floating docks at some developments. Fisherman stalk the guapote, or rainbow bass. And pleasure cruisers also play the waters. But for the most part it's quiet, without much boat traffic. On any given day there might a dozen craft on the water. Kayaking is also popular, as is windsurfing on the northwest end, which has steady winds from October to May.
3. Pura Vida-Friendly Locals and everything you need
The people in Arenal are another factor that makes this place special. As with the rest of Arenal Lake , locals are warm and friendly, welcoming of their new neighbors. And the relatively small expat community is tight-knit. But most expats gather in the homes of friends for informal get-togethers, books clubs, card games, and other activities. In many ways, it's the type of community where everybody knows everybody and newcomers are welcomed into the fold with open arms.
In Arenal you will find everything you need to have a pura vida life. This little town offers 3 grocery stores, banks, places for entertainment after a long week, schools, there are very good restaurants around , including Gingerbread, Las Delicias, Moyas and Platillos Voladores which offers Italian- family-style food, the best italian food you can get.
Also, you will find beautiful local B&B's to stay, among those beautiful B&B's in Lake Arenal Area is Agua inn, ( www.aguainn.com ) this hidden gem is just about 5 minutes from town, surrounded by tropical forest gardens with the Cote River that wraps around the property, an unique experience that will help you sleep pleasantly every night.
4. Best Real Estate Deals
Though Arenal is increasingly popular among retirees and other expats, buying or renting a home remains affordable, especially considering the inspiring lake views and quiet rural setting. Several gated communities can be found along the narrow two-lane road that circumnavigates the lake. But individual home sites can also be found. Homes with views of the lake and surrounding countryside are the most desirable. But you can also find homes in the jungle and lots in remote areas with waterfalls, private hot springs, and more.
Many homes are designed to maximize an outdoor lifestyle, with large covered patios and smaller interior living areas. And large windows facing the lake are also popular. One recent listing featured a four-bedroom lake-view home on 2 ¼ acres for $189,000. A fully-furnished two-bedroom home on the lake , with community amenities like boat storage and floating dock, tennis courts, horse stables, and pool is available for $215,000. And there are some extremely low-priced properties, like a one-bedroom cottage for just $49,000.
If you're interested in acreage, there are many large properties available. About 15 minutes from the lake there is a 215-acre parcel in the jungle with river, springs, and primary rain forest for $250,000. It has access to utilities and has access to a main road. It could be a great site for development …or your own eco-lodge.
On the rental side, there are plenty of options that allow you to try out life on the lake with a long- or short-term lease arrangement's . A furnished two-bedroom near the town of Nuevo Arenal rents for $850 a month—that includes all utilities. Another two-bedroom, with a lake view, will run you $650—and you can walk to the lake.
5. Low Cost of Living
In Costa Rica, expat couples report being able to live on $2,000 or less per month, including transportation and housing costs. Affordable properties are a big factor in the lower cost of living in the Arenal community in particular. Not having to use air conditioning cuts down on electric bills and water rates are low, just as the rest of the country. High speed Internet, cable TV (including premium channels like HBO), runs about $60 to $80 per month, depending on the Internet speed and cable package you choose. Many channels and shows are in English.
A major way to cut down on expenses is to shop and dine like a local. That means getting your fresh fruits and veggies, as well as seafood, chicken, eggs, honey, and other "whole" foods at the local farmers' markets. Avocados, for example, are four for $2. A papaya as long as your forearm will cost you 75 cents. A head of lettuce, 50 cents. Most couples report spending about $30 per week at the market.
As far as lunches and dinners out, there are plenty of restaurants offering American-style food, as well, Italian, and other world cuisines. But those places tend to be at U.S. prices or more as they cater to the tourist crowd primarily. In-the-know expats eat where they locals eat: the soda, a small, usually family-run restaurant that serves typical Costa Rican food. The national dish, the casado, features rice, black beans, plantains, cabbage or green salad, a casserole, and your choice of fish, beef, pork, or chicken. It's a tasty and filling dish. Other popular menu items are the olla de carne, a beef and vegetable soup, and arroz con pollo, chicken with rice cooked with a savory spice blend.